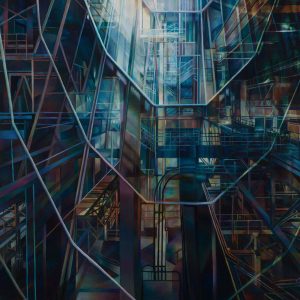 Zoneone Arts brings Nancy Newman Rice to you…  Nancy Newmen-Rice
How did your residency to Paris after completing your MFA propel your art?
My residency in Paris happened 39 years after I received my MFA. Shortly after graduate school, I began teaching I at a city community college, St. Louis Community College, Forest Park, and an ex-urban university, Maryville University. The latter would offer me a full-time tenure track position. My husband was also in the early stages of his academic career and we had one young child, soon to be followed by another. Leaving home to participate in a residency was impossible, thus I waited until I took early retirement in order to not only paint full-time and also have the freedom to travel.
Paris, a city like no other, has served as a subject and refuge for artists not only because it is beautiful but also because there is an aesthetic energy that seems to drive and effect he entire atmosphere.  The essence of my application to La Cité des Beaux Arts in Paris, stated that my primary reason for wanting to live and work in Paris was to increase my collection of architectural imagery and experiences, by means of annotated drawings and photographs of the built environment. My days there, alternated with multiple visits to museums, cathedrals, churches and significant buildings, where I drew, when possible, or quickly photographed, and work in my studio. I collected images of windows, parquet floors, gothic cathedrals, (inside and out), and fantastic staircases. The spiral staircase in the Palais de Tokyo, which was at that time, a somewhat rundown cement commercial structure with countless of installation art opportunities. This staircase became an important element in my Ash Wednesday series, which was based on T.S.Eliot's poem of the same name. The rhythm of the poem is one of climbing a spiral staircase each step a with reference to Catholic liturgy.
Your work has been represented by many commercial galleries in the USA, are there any collectors that standout?
I am fortunate in that I have been represented by commercial galleries, which have regularly exhibited my work. When my work was less complex, I was more prolific and able to have work exhibited in galleries around the US. Presently, my primary gallery, Duane Reed Gallery, exhibits my work in St. Louis and at international art fairs. Walter Wickiser Gallery represents my work in NYC.
What lead you to architectural landscape painting? 
The simplest answer to the question, "why architecture?" it is my fascination with the geometry of the visible world and how we mortals have created our own geometric spaces in which to live, worship, learn etc.
I have lived in a city most of life and when I travel, I spend much of my time in cities, remembering events and where they took place is significant, and always involves a specific building and all the architectural elements that define its shape and interior space. My paintings are an amalgamation of those memories.